CATECHESIS OF THE GOOD SHEPHERD (CGS)
CGS is a common religious experience involving children and adults in which the religious values of childhood, primarily those values of contemplation and enjoyment of God, are predominant. This experience is shared in a place particularly prepared for the religious life of children called the Atrium.
September 22 | Parent(s) Only
October 20 | Meditation 1 – True Vine I – John 15:1-9
November 17 | Meditation 2 – True Vine II – John 15:1-9
December 1 | Meditation 3 – Found Coin/Lost Sheep – Luke 15:4-6; Luke 15:8-9
January 19 | Meditation 4 – Forgiving Father – Luke 15:11-24; Maxim Work
February 16 | Reconciliation Card Work; tour of Confessional; Review the Rite
March 4 (Children Only) Sat 9am-1pm | Reconciliation Retreat & Celebration of 1st Reconciliation (11am – family invited)
March 30 | Meditation 5 – Centurion Servant; Synthesis of the Mass; Review Meditations
April 17 | Practice for First Holy Communion
April 22, Saturday 10am | Celebration of First Holy Communion, St. Joseph church
Religious education aims to provide students with knowledge and understanding of as well as sensitivity to different religions. Education is crucial to the development of a tolerant society. The goal of our program is to teach our Faith, encourage faithfulness to Jesus Christ, aid in developing a personal relationship with Jesus, and foster discipleship of Jesus Christ.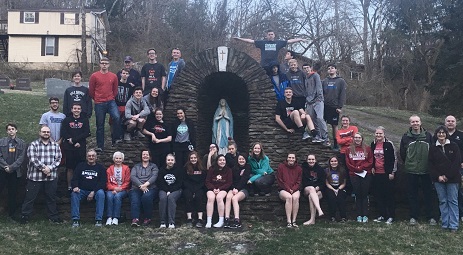 GRADE 7 & 8
Classes Begin Wednesday Sept 7 at 6:30pm
in the Parish Life Center (St. Joe Campus)
Parent Meeting Wednesday Sept 7 at 7:15pm
in the Parish Life Center
GRADE 9 & 10 – Confirmation
Parent Meeting Wednesday Sept 7 at 6:30pm
in the Parish Life Center (St. Joe Campus)
Classes Begin Wednesday Sept 14 at 6:30pm
in the Parish Life Center