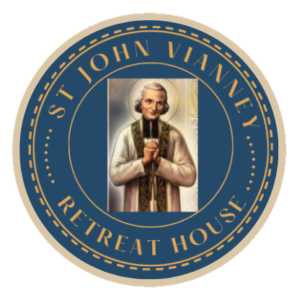 St. John Vianney Retreat House is a beautifully maintained, private residence next to a historic Catholic church founded in 1850. It can accomodate up to three priests/seminarians or be used privately.

Located in Southeastern Indiana, surrounded by several exceptionally beautiful churches, perpetual adoration chapels, and approximately 35 miles from Cincinnati, OH or Covington, KY.
Inquiries & to book your stay:
Email – aspretreathouse@gmail.com or
Call – Karen Wilgenbusch: 513-520-3392
or Lisa Ladoceur: 513-305-6615
The St. John Vianney Retreat House is available for a weekly rental, Sunday evening through Saturday Noon.
Cost is $250 for one priest, and $100 for each additional priest or seminarian, maximum three.
• 3 Queen Size Beds
• Private Chapel
• Peaceful Setting
• Next to St. Martin
• Private Parking
• 2.5 Bath
• Full Kitchen
• Wi-Fi
• Linens Provided
• Exercise Room
• Washer/Dryer
• 15 Mi. from Kroger
• 1 block from Convenience
Store / Gas Station

Each priest must submit a letter of suitability from his Ordinary.
parish priests are willing to schedule a time for confession or spiritual direction
The St. John Vianney Retreat House is an oasis of prayer and silence, perfect for an annual retreat. My time there brought about great renewal in my prayer life. It's a peaceful place with a beautiful chapel and other excellent accomodations.
-Deacon Patrick Wille

I look for a few essentials in the location where I get away: quiet; easy access to prayer; a private space to be outdoors; and a clean facility where I eat and sleep. The St. John Vianney House checks all the boxes. I would definitely use it again!
-Fr. Chase Hilginbrinck

I have stayed at this retreat oasis on many occasions over the last 7 years. For those who need quiet, it's perfect. I would highly recommend this house to anyone looking!
-Fr. Eric Bolek