We are a place of worship, but we also strive to "love our neighbor as ourselves." We want everyone to feel loved and a part of our community. As you come to know the people of All Saints, we hope and pray you will get involved in the various ministries God uses to unite us as a community.

There is a long history of family and fellowship here. Please know that you are welcome. Introduce yourself and help us to get to know you. Please get involved!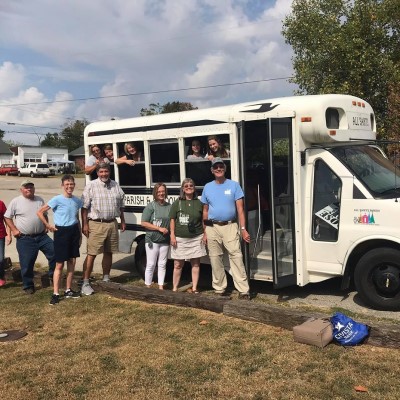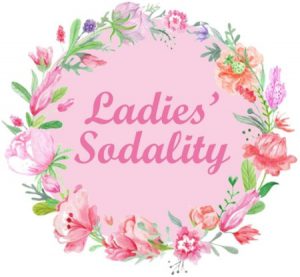 All Saints Ladies Sodality is a group of caring Christian women that share in the mission and vision of All Saints Parish. We are joined in our journey in faith to Love God and one another. Through our devotion to Mary and the Blessed Sacrament we actively seek to create an atmosphere of companionship and charity in our monthly meetings and the ministries we serve.
Monthly meetings are held the third Tuesday of each month at the St. John the Baptist campus. Next meeting: January 17, 2023 at 7:00pm. The Ladies voted to not have a December meeting.
The MISSION of Our Groups:
To challenge and empower men, with the cooperation of God's grace, to live virtuous lives. This is accomplished through education, formation, and accountability.
About the Groups:
The purpose of The King's Men group meetings is to enable a man to obtain or enhance the necessary formation and accountability he seeks in his walk as a Catholic. This is done primarily through prayer, scriptural and spiritual reading with an emphasis on masculine spirituality and accountability using "The 4 C's Model" (Commit, Confess, Challenge and Confirm).
Weekly Meetings:
Saturdays 7:00am at the Parish Office. ALL MEN are welcome!
Contact:
Questions or comments? email us at:
thekingsmen.allsaints@gmail.com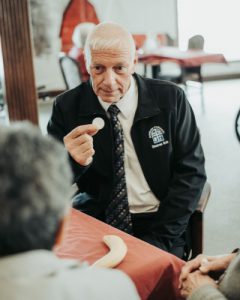 This ministry brings Holy Communion, home visits and dignity to those who are shut-in, in hospitals or in hospice.
More volunteers are always welcome!
If interested, please contact secretary Kathy Kluesener at 812- 637-0021 /
ski4klues@fuse.net
or Deacon Bob at 812-212-3971 /
deaconbobdecker@gmail.com
CONNECT is a welcoming presence in our community.
Our purpose is to connect people to our parish, its ministries and to each other. Our booth at the 2022 Dearborn County Fair was very successful. If you are interested in helping or have questions regarding this new ministry, please email Maggie Schwab (maggieotooleschwab@gmail.com) or call the Parish Office.
CATHOLIC MISSIONARIES FOR CHRIST
This evangelization team meets the 2nd Monday of every month at 6:30pm at the St John hall.
This recently-formed Catholic Missionary Team in Dearborn County includes all four Parishes, for the ongoing call to fulfill the Great Commission given to us by our Savior. The team visits the community every Saturday morning. Let us know you're coming by signing up
HERE
.
Contact:
Questions or comments? email Roy at:
roystr1949@gmail.com
or call 812-212-4467
Mission:
To provide compassionate care and grief support to our parish families at the time of the loss of a loved one and for at least the first year after.
Grief Support Group:
Help and Encouragement After the Death of a Loved One.
GriefShare:
a special weekly seminar and support group designed to help you rebuild your life. We know it hurts, and we want to help. We will start a new 13 week session in the Spring of 2023.
Chairperson:
Cheryl Wilhelm 812-576-4592 ~
bereavement.asp@gmail.com
Facilitators:
Helen Kremer 812-637-1766 | Tina Connolly 812-637-5406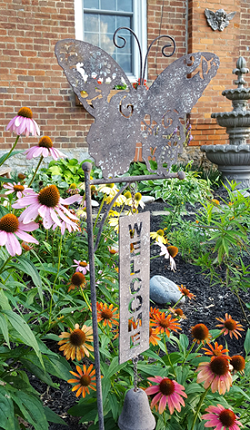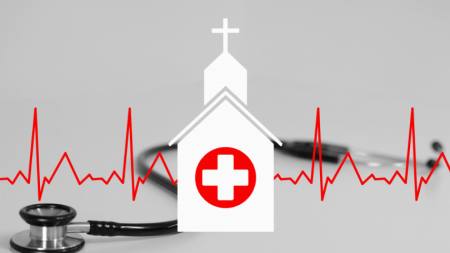 Mission:
The Health Ministry Team seeks to promote holistic care of mind, body, and spirit by cultivating the Church's role as a healing community. We seek to provide education, collaboration and outreach in order to promote healthy lifestyles in our community.
Contact:
Robin Fox
We Meet:
The 3rd Sunday of each month, 10:30am, at the parish office. All are invited to attend.
Health Care Workers:
Please print this
prayer card
and keep it with you. Thanks for all you do!
Mission:
We promote the dignity of all human life from conception to natural death. Please join us!
Newsletter:
Latest Information
HERE
Contact:
allsaintsprolife@gmail.com
Chairperson: Sara Yunger
saramarieyunger@gmail.com
| 859-801-1293
Secretary: Claire Keck
clairekeck.asp@gmail.com
| 812-576-4302
Subcommittee Chairpersons:

Embrace Life:
Jennie Chafin | 513-461-9082
40 Days for Life:
John Herbert | 513-300-5246
Holy Innocents Mass:
Teresa Ward | 513-256-2648
Miscarriage Ministry:
Catie Reatherford | 513-305-2486
Blessing of the Child in the Womb:
Claire Keck | 513-518-2728
Meetings: We meet quarterly in March, June, September, and December on the first week of the month at 7 PM in the St. John campus hall.
We Support the Pregnancy Care Center of Lawrenceburg and the Pregnancy Help Center of Brookville.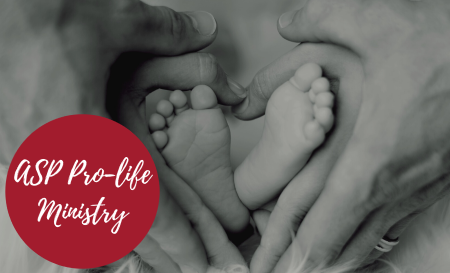 Our Pro-Life ministry works alongside Heavens Gain to help women and their families during miscarriages. Embracing Mom and baby with care, compassion and dignity. There are resources and miscarriage kits available at the Parish office.
Call Catie Reatherford at 513-305-2486 for more information or the Parish Office to get in touch with someone.