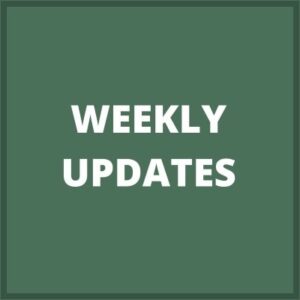 • Memorial Day Mass
~ Mon. May 29th ~7:30am ~ Please join us for Holy Mass at the St. Joseph Campus. There will be no 5:45pm Mass this day.
• No Daily Masses June 6, 7, 8
~ You are invited to attend Mass and Corpus Christi processions at one of these locations instead (all at 6:00pm): June 6 ~ St. Lawrence | June 7 ~ St Teresa | June 8 ~ St. Mary.
• Summer T-Shirts Are Coming
~ T-Shirts will go on sale June 10th and will be available for pick-up at all Masses July 8/9. This year's religious exhibit and t-shirt will feature the 14 stations of the Eucharist. Check back for ordering instructions.
• Save the Date
~ A welcome celebration is planned for Fr. Hollowell after the 4pm Mass on July 8 and after the 11am Mass on July 9. Parish Council will work to find volunteers to put this together. Stay tuned.
• No 12 hours of Confession in June and July
~ Due to scheduling conflicts, the next 12 Hours of Confession will be August 4th. Thanks for understanding.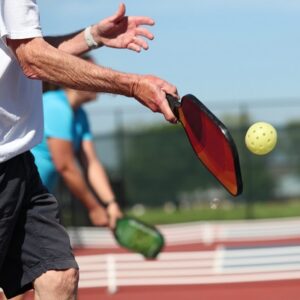 Mondays, Wednesdays and Fridays at the St. Paul Campus
We have pickleball three times per week: Monday and Wednesday at 5:30pm and Friday at 10:00am.
All are welcome and you do not need to RSVP. A suggested donation of $2/day is appreciated.
Please contact Dave Kuhn with questions at (513) 673-4298.

MILITARY APPRECIATION PROJECT (MAP)
Donations Needed Anytime ~ Bring to the Office
MAP was initiated last year by Michaela Spangler for her Girl Scout Gold Award. While she has moved on to college, the program continues. Our goal is to reach out to the active duty military of our parish to assure them that they are loved and appreciated here at home. We send them care packages several times throughout the year.
If your loved one is serving in the military and is a parishioner of All Saints or one of the Dearborn County parishes, please contact us so that we can include them in this program.
We are still accepting donations to keep the program running. In addition to prayers and monetary donations which are so important, we are accepting the following: powdered drink packets, beef jerky, microwavable skyline chili pouches, gum, mints, protein bars, trail mix, and chapstick. Thank you for your continued prayers and support of our troops and of this program. Contact Lisa Spangler at (812).212.5683 or lisaspangler6@gmail.com with any questions.
May 29, 4:00-7:00pm at St. John Campus
Cost:
ABSOLUTELY NOTHING!
Please Bring:
The whole family, lawn chairs and a dessert (or side dish) to share.
Musical Guests:
My Brother's Keeper and Maria Keck
RSVP:
By May 25th
HERE
FAREWELL AND APPRECIATION GATHERING
Sunday, June 25 after 11:00am Mass at St. Teresa's
Join us as we bid farewell to Fr. Mahan and celebrate the Ordination Anniversaries of Fr. Mahan, Fr. Meyer, Deacons Bob Decker, Kevin Daily, and Mark Schmidl. Let's join together to acknowledge and give thanks for these holy men who serve us unconditionally. This is a county-wide event.
Location:
St. Teresa PCC and grounds at the rear of campus. Bring your own lawn chairs if you prefer to sit outdoors.
Lunch:
Each family is asked to bring a family-size side dish or dessert. Delicious smoked pork, buns and cole slaw will be provided by our parishes. Lunch will be served beginning at 12:30 pm. Water, lemonade and iced tea will be provided by St. Teresa Knights of Columbus. If you desire another beverage, BYOB is welcome.
Volunteer:
Many Hands Are Needed – Please sign-up
HERE
to help!
Official Flyer:
HERE
July 3-12, 2023 ~ Registration is Closed
Dear Friends: Walking in the footsteps of Jesus and experiencing His homeland is a tremendous blessing. In fact, many people consider the Holy Land to be the "Fifth Gospel" because of the insights it provides into the life of our Lord. -Father Mahan Please note that there are no COVID vaccination or testing requirements for entrance to the State of Israel or return to the USA.
For those who are signed up – remember – your balance is due on May 1st.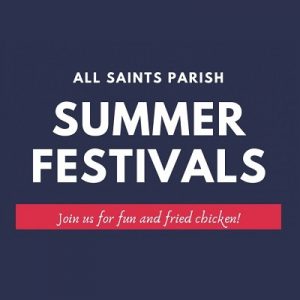 2023 FESTIVALS & CHICKEN DINNERS
July 15-16 St. John | July 22-23 St. Martin | August 12-13 St. Paul
Food, live music, raffles, games, quilts and Kiddie Land. Please join us! Chicken Dinner will be Sunday from 11am to 5pm or until sold out.
Grand Raffle donations are due Friday, May 19. Please contact the parish office if you wish to donate and haven't already been contacted by volunteers.
St. Martin Meeting June 5, 6:30pm: All are invited to attend a planning mtg in the hall.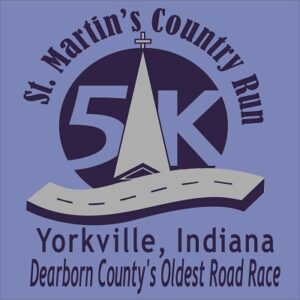 Sunday, July 23, 9:30am at St. Martin Campus
Run or Walk in Dearborn County's Oldest Annual Road Race – established 1981.
5K out and back course starts and ends at St. Martin Church with some gentle hills. Prizes by age group will be awarded!
REGISTER ONLINE HERE
After the race, stay for our festival and chicken dinner!