• Weekday Mass Schedule Adjustments in June
~ There will be no Mass the following dates: June 22 & 23. Mass on Monday the 21st will be at 7:30am at St. Martin's instead of 5:45pm. Mass on Thursday the 24th at St. John's is moved to 5:45pm.
• Prayer Shawls Available
~ Know anyone that could use a little extra love? Crocheted prayer shawl/blankets are available if you know of anyone (male or female, adult or child) in need of extra love and support. They are packaged and ready for delivery. They help to lift the spirits of anyone going through hard times whether it be health issues, emotional, financial, or loss of a loved one. They are at no charge but donations are accepted for the Prayer Shawl Ministry. You can pick one up at the parish office or call Kim Zimmerman 812-623-2728 for delivery, shipping, or questions.
• Fr. Steinmetz's 50-Year Priestly Anniversary
~ Father Gerald Steinmetz celebrated 50 years as a priest on June 12. Please keep him and his ministry in your prayers. If you wish to send a card his address is
1350 Lake View Dr, Albuquerque New Mexico 87105
.
ALL SAINTS SUMMER T-SHIRTS
On Sale NOW
This year's summer t-shirt coincides with our summer festival exhibit and is available for purchase right now at
https://www.athfundraising.com/all-saints-parish?page=3
We can't guarantee t-shirt orders received after June 15 will be fulfilled in time for the Festivals. Please allow 2-3 weeks for processing. Orders with paid shipping will be mailed to your home. If you choose "Local Pick-up", your order will be delivered to the church office.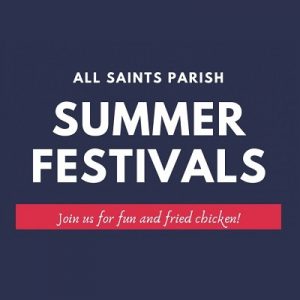 July 17-18 St. John | July 24-25 St. Martin | August 7-8 St. Paul
Food, live music, raffles, games, quilts and Kiddie Land. Please join us! Chicken Dinner will be Sunday from 11am to 5pm or until sold out.
PROMOTIONAL FLYER
Volunteers Are Still Needed! Signups:

July 25, 2021 ~ 9:30am ~ St. Martin Campus
Join us for the 41st Annual 5K race! Run or Walk. Prizes awarded.