• Adoration Testimonial Videos
~ All Saints Parish will release a video every week with our parishioners sharing their experiences in our adoration chapel.
CLICK HERE
for a YouTube playlist of these videos. PLEASE consider signing up for an hour or becoming a substitute- you will not regret it!
• All Saints Throw Blankets for Sale
~ You will have the opportunity to purchase parish throw blankets at St. Paul's festival or stop by the parish office. Each throw fits a standard queen size bed and is $60. All proceeds benefit the parish.
• New Missalettes Available
~ Please pick up a new missalette as you enter or exit Mass this weekend. Take it home and bring it with you each week.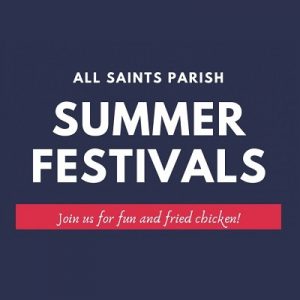 Only One Left ~ August 7-8 St. Paul ~ Don't Miss It!
Food, live music, raffles, games, quilts and Kiddie Land. Please join us! Chicken Dinner will be Sunday from 11am to 5pm or until sold out.
PROMOTIONAL FLYER
Volunteers Are Still Needed! Signups:

REDISCOVER THE SAINTS EXHIBIT
At All 2021 Summer Festivals
We are hosting a fantastic display of over 50 first class relics of Roman Catholic Saints. Imagine spending time with St. Francis of Assisi, Mother Teresa, St. Anthony and St. Peter. This traveling exhibit will be at all three of All Saints Summer Festivals (St. John, Dover- July 17 &18; St. Martin, Yorkville-July 24 & 25; St. Paul, New Alsace-July 7 & 8) ~ Saturdays 5pm-8pm and Sundays 11am-5pm. Entrance into the exhibit is FREE. All are welcome! The St. John Festival (July 17 & 18) is the only facility that is handicap accessible.
Thursday Mornings Starting August 12th
An interactive men's program combining the best research from science with the teachings of the Catholic faith and the wisdom of the saints to develop the vision of man fully alive. By honestly addressing the pressures and temptations that men face in our modern culture,
That Man is You!
seeks to form men who will be capable of transforming homes and society. Two Locations: St. John (Dover) and St. Lawrence (Lawrenceburg).
COMPLETE DETAILS
Saturday, August 21, 6:40pm – Reds vs. Marlins
Great American Ballpark – Group Seating in the Fioptics District
Cost: $20 – includes a $9 concession credit
PROMOTIONAL FLYER