• Stop Tax Dollars Going to Abortion
~ If you still have not signed the petition to save the Hyde Amendment from being repealed, we need your signature now!
COMPLETE DETAILS
• Weekend Mass Schedule Beginning June 5/6
~ As we move further into a post-Covid-19 world and strive to get back to a more normal schedule of Holy Mass we will be making some adjustments as follows: 4pm Saturday – St Martin campus | 7:30am Sunday – St Paul campus | 9:15am Sunday – St John outdoor pavilion | 11:00am Sunday – St Joseph campus
• Grand Raffle Donations Now Being Accepted
~ Planning is underway for all three summer festivals. If you are interested in donating to the grand raffle at one, two or all three festivals please contact the parish office. Individuals, families, businesses are invited to participate. To ensure your name appears on the raffle tickets, we ask your donation be submitted to the parish office by
Friday, May 21.
• May 31 Memorial Day Mass
~ Mass will be at 7:30am at the St Joseph campus. There will not be a 5:45pm Mass.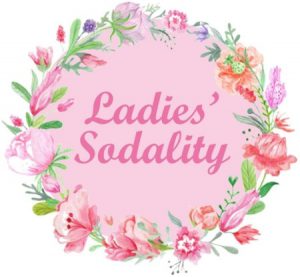 LADIES SODALITY SPRING FLING
Tues May 18, 6:30pm at St. John Hall

Due to our canceled Christmas Party, a Spring social is planned for May 18. This is a good opportunity for all ladies of the Parish to meet and mingle. A meal will be served. Come join us for fun, food and fellowship. If you plan to attend, please RSVP to the Parish office ( 812-576-4302) by May 11.
May 22 at the St. John Campus 9:00am to 12:30pm.  REGISTER HERE
The E6 Catholic Men's Conference, in association with All Saints Parish and The Kings Men Catholic men's group, invite you to
The Glory of Masculinity
, a half day free men's retreat featuring Mark Houck, founder of the Kings Men, a national Catholic men's group that has traveled, sponsored and lectured at conferences, workshops and retreats for thousands of men all throughout the United States. Featuring Fr. Jonathan Meyer and organized by the group that brings you the E6 Catholic Men's Conference. We look forward to seeing you on May 22nd! Free will offerings will be accepted. Light breakfast and lunch provided.
"It Takes Two to Tango" – Develop a Rhythm in Marriage
June 12, 2021 at the St. John Campus Hall, 6:00-9:00pm.
Guest Speakers will be Troy and Kathleen Billings. Together, they will present the beauty of the Church's teachings on marriage, while they share practical advice from their own lived experience as a married couple.
Cost: $0. Dinner is included. Call the parish office to RSVP. 812-576-4302 or
REGISTER ONLINE HERE
.