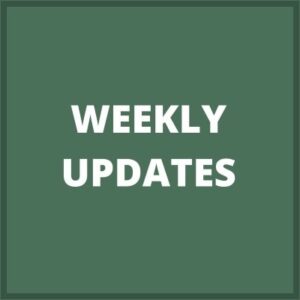 • Fr. Meyer AWAY Oct 3-7 and Oct 10-13
~ He has been assigned to preach to the Priests of the Diocese of Lafayette at their annual Diocesan Priest Retreat. Local Mass schedules will not be altered. 12 Hours of Confession Oct 7 will not be canceled.
• Aluminum Can Drive
~ The trailer will be by the parish office collecting aluminum cans until October 31. All proceeds benefit the preschool.
• October is Respect Life Month
~ In addition to the Baby Bottle fundraiser and 40 Days for Life (see below), Pro-Life yard signs will be available after all Masses.
• October is also the Month of the Holy Rosary
~ We will pray the rosary before every weekend Mass. Click
HERE
to volunteer to lead the rosary. There will be Rosary Processions on Oct 8 & 9 at the 4pm and 11am Masses.
• New Cemetery Guidelines
~ The Parish Cemetery Guidelines have been updated to include information regarding the Columbarium at St. Martin's. View the revised document
HERE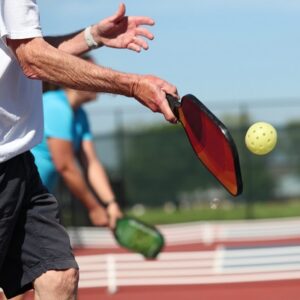 Wednesdays and Fridays at the St. Paul Campus We have pickleball twice a week in the St Paul campus gym. Every Wednesday at 6:00pm and every Friday at 10:00am.
All are welcome and you do not need to RSVP. A suggested donation of $2/day is appreciated.
Please contact Dave Kuhn with questions at (513) 673-4298.
THAT MAN IS YOU! - THE FIGHT OF FAITH
Men's Program ~ Thursdays from September 8 to December 8
The Fight of Faith equips and enables men to engage in the cosmic, spiritual battle raging in our day. Authentic masculine identities will emerge to inspire heroic lives of service to a calling greater than ourselves. The Fight of Faith is uniquely both contemplative and practical.
What: Each week there will be a different speaker and a different topic.
Where: St. Lawrence church basement (for now).
When: We will gather at 5:55am and be finished by 7:00am.
Refreshments: Donuts, coffee, milk, juice, fruit
Format: Meet and greet; opening prayer; video presentation; small group discussion; closing group prayer; adjourn.
Questions: George Schewe at gjschewe@gmail.com
October 1 to 30 ~ During Respect Life Month
Pro-Life Committee will pass out empty baby bottles to fill with donations for our local pregnancy resource centers. Please fill with loose change, bills and/or checks. We ask that you bring the bottles back by the end of October. You can return to any of the church campuses after weekend Masses OR to the parish office during the week. Thank you for your generosity.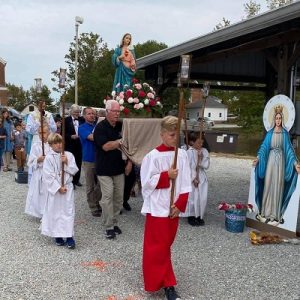 Saturday, October 8th, 4:00pm and Sunday October 9th, 11:00am
We will have a procession at the 4pm and 11am Masses the weekend of Oct 8/9. All children are invited to participate in the procession by carrying flowers. First Communion students can wear their 1st communion attire. If you attend either of these Masses, please plan to stay to ensure parking lot safety.
BLESSING BAGS FOR THE HOMELESS
Donations Needed Starting October 8th and 9th
Items will be distributed to the homeless by the Young Adult Ministry. Leave items in the back of church either the weekend of October 8/9 or October 15/16. Thank you! Here is a list of what is needed:
Hats
Socks
Gloves
Toothbrush + Toothpaste
Granola Bars
Lip Balm
First Aid Items
Peanut Butter Crackers
Bottled Water
Hand Sanitizer
Hand & Foot Warmers
Deodorant
Comb/Brush
THANKSGIVING 5K SPONSORS NEEDED
Deadline: Friday, October 14th
For nine years, the
Gobble Wobble 5K
has been supporting the North Dearborn, Sunman and ECHS Food pantries; this year the Catholic Parishes in Dearborn County are expanding the Thanksgiving race opportunities with the first ever
Pre-Turkey Day 5K
on the evening prior to Thanksgiving, which will support St. Vincent DePaul, the Clearing House, Lawrenceburg and Dillsboro Food Pantries.
Become a sponsor
or ask your employer to become a sponsor for one or both races. View the sponsorship levels and find the online sponsorship form at
https://gobblewobble5k.webs.com/sponsors
Make checks payable to All Saints Parish or send an electronic payment via WeShare. All donations are tax-deductible.
For further questions please contact us at gobblewobble5krace@gmail.com.
Women's Event ~ Tuesday, October 18th, St. Joseph Campus PLC
Attention Ladies Hosting Tables for Mary's Way ~ The St. Joseph PLC will be open:
Sunday, October 16 ~ 3pm – 7pm
Monday October 17 ~ 6pm – 8pm
Tuesday October 18 ~ 9am – 12pm
Please plan to set your tables during one of these times. We look forward to seeing everyone. If you have any questions, please contact Joan Brewer at (812)-576-4663. This event is at capacity but there is a wait list.
Saturday-Monday, October 22-24 at Planned Parenthood in Cincinnati
Please
SIGN UP HERE
for one of the 36 time slots. During your one-hour commitment, you will stand in peaceful, prayerful vigil in front of the Planned Parenthood on Auburn Avenue (signs are optional, but available on-site for our group). Together, the Dearborn County Catholic Parishes have committed to THREE full days of vigil, and so it is our responsibility to have someone there every hour from 7 AM to 7 PM for the duration. There will be an opportunity to sign up in-person after all Masses on the weekend of October 15th and 16th. Group options are available.
See this
FLYER
for complete details!
Saturday, October 22, 6:00-10:00pm at the St. Paul Campus Gym
In honor of Respect Life Month, the Mother of Mercy Homeschool co-op is organizing a fun family dance at All Saints to take place on Oct. 22, 6pm – 10pm. The donations that are collected will go to support the Pregnancy Care Center in Lawrenceburg.
We hope you are able to attend the dance, and we look forward to celebrating life with you!
Please RSVP
HERE
Three Dates – Three Locations – Starting October 23rd
Everyone is welcome! Bring the kids! Food and desserts available. Questions? Call the parish office at (812) 576-4302.
FULL PAGE FLYER
Sunday, October 23
St. Joseph PLC
Doors Open 5pm
Bingo Starts 6pm
Sunday, November 13
St. Paul Gym
Doors Open 5pm
Bingo Starts 6pm
Sunday, November 20
St. Martin Hall
Doors Open 4pm
Bingo Starts 5pm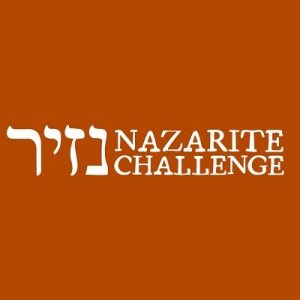 NAZARITE CHALLENGE FOR MEN
Men- During November, follow the 5 commitments of the Nazarite* Challenge:
1-Join the community by signing up (see below)
2-Commit to daily prayer
3-No shaving
4-Abstain from things that lead you to sin
5-Share your faith
*Numbers 6:5
– Nazarites are men who set themselves apart and dedicate themselves to the Lord in three ways: abstaining, avoiding impurity and not shaving. A simple goal: a challenge for men to dedicate themselves to the Lord.
To sign-up
for the daily emails from Fr. Meyer through Flocknote, text NAZARITE to 84576 or click
HERE
to sign on to Flocknote.
Please spread the word, you need to be join prior to November 1st!
July 3-12, 2023 ~ Register Now!
Dear Friends: With great pleasure I invite you to join me in making a pilgrimage to the Holy Land. Walking in the footsteps of Jesus and experiencing His homeland is a tremendous blessing. In fact, many people consider the Holy Land to be the "Fifth Gospel" because of the insights it provides into the life of our Lord. -Father Mahan
Please note that there are no COVID vaccination or testing requirements for entrance to the State of Israel or return to the USA.